Antioxidants are a big buzzword these days, and for good reason. These compounds are linked to lowering the effects of aging, slowing or preventing cancer growth, protecting the brain, heart and liver and even reducing the recovery time after exercise. As a result, you can find everything from chocolate bars and pop to bottled water, orange juice and white bread proudly displaying their status as the source of one vitamin or another. It is easier and faster to grab a granola bar
(rich in vitamins A, C and E!)
than to get up the half hour earlier in the morning and make yourself a scrambled egg on rye toast or a bowl of oatmeal - an excuse that carries forward into the lunch hour and even through dinnertime. As a society, we are willingly blind to the lack of whole foods we're putting into our bodies, comforted by the fact that we can get all our omega-3's and other necessary nutrients from a pill or a storebought quick-fix.
Adding the nutrients we all need for optimal health through whole foods doesn't have to be expensive or require being attached to the kitchen 24 hours a day. Nor does it have to be expensive or boring! Antioxidants like anthocyanins and polyphenols abound in most richly-coloured foods, the darker the better, and it's hard to claim that anything as odd looking as black garlic or as pungent as Chinese black vinegar is boring! Fibre, iron, folate and molybdenum pack the cheap and versatile lentil, while you can get more than enough vitamin A and almost all your vitamin C from a side of kale.
Often the stumbling block comes when it's time to use these nutrient-rich goods that we buy with good intentions. We're not
supposed
to like spinach, and how could a "health food packed", meatless meal
possibly
keep you satisfied? Well, this salad (perfect for workday lunches or as a dinner side) is easy to do ahead of time and lasts the week. While it does take more time initially than picking up a burger and fries at the drive-thru, there is really only 40 minutes of "active" work required total. Divide those 40 minutes between the 6 meals you get out of it and voila - a flavourful, allergy-friendly and vegan lunch in under 7 minutes!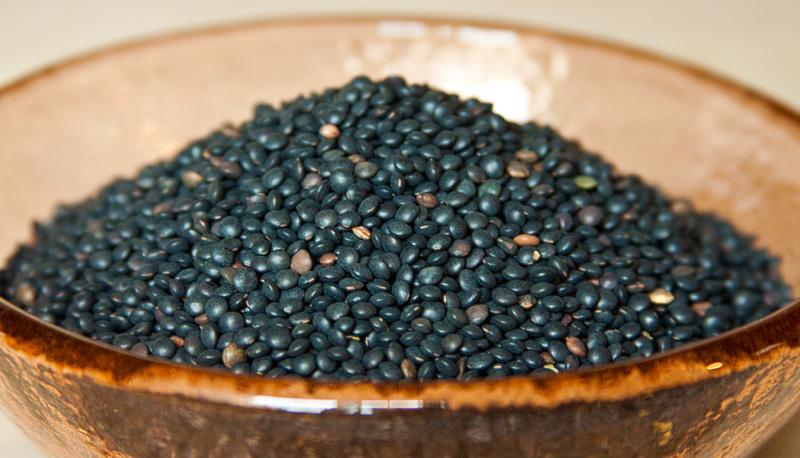 "Over to the Dark Side" Salad
Serves 6
2 cups vegetable broth
2 cups water
1/2 cup
black rice
(this is not the same as wild rice),
soaked overnight
1 cup
black lentils
(also called beluga lentils)
1 tsp fresh grated ginger
1
black radish
, peeled and diced
kosher salt
1 bunch of
Tuscan kale
(also called black or dinosaur kale)
, destemmed and sliced into thin strips
1 medium carrot, julienned
(if you have
purple carrots
it sort of keeps the salad a similar colour)
3 tbsp
black vinegar
(Chinkiang vinegar)
or balsamic vinegar
1 clove
black garlic
, mashed
(you can omit this if you can't find it or use roasted garlic)
2 tbsp raw agave nectar or brown rice syrup
1/2 tbsp tamari soy sauce
2 tbsp light olive oil
1 tsp toasted sesame oil
1/2 tsp black pepper
salt to taste
1 1/2 tbsp black sesame seeds
Combine broth and water in a measuring cup.
Divide between two saucepans - 3 cups in one and 1 in the other.
Bring the pot with the lesser amount of liquid to a boil and add the black rice. Reduce the heat, cover and simmer 30 minutes.
Meanwhile, bring the liquid in the other pot to a boil and add the lentils. Reduce the heat to a brisk simmer and cook 20 minutes, then drain well.
When both the rice and lentils are cooked, transfer them both to a bowl and stir in the ginger. Cool completely (you can do this a day ahead).
Toss the radish dice with a good amount of Kosher salt (the exact amount depends on how large your radish is) and place in a colander. Let stand 1 hour, then rinse and drain well.
Toss the kale with the carrot, cooled lentils and rice, and rinsed radish.
In a small bowl, mix the vinegar, garlic, agave, soy sauce, oils, pepper and salt, then pour over the salad and toss well.
Cover and chill at least 24 hours.
Just before serving, fold in the black sesame seeds.
Amount Per Serving
Total Fat:
7.3 g
Cholesterol:
0.0 mg
Sodium: 466.2 mg
Total Carbs: 38.4 g
Protein:
12.6 g